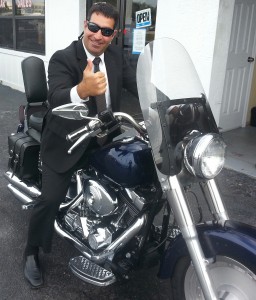 Since July 1, 2008 the State of Florida requires that motorcyclists (regardless of age) take and pass a Basic Rider Course through the Florida Rider Training Program before driving any motorcycle over 50 cc on state roadways.   Upon completion of the course, drivers become eligible for a motorcycle only license, or a Motorcycle Endorsement added to their current drivers license.
Motorcycle Endorsement
If you already have a Florida drivers license then you can get a motorcycle endorsement on the drivers license you hold. To obtain your motorcycle endorsement you must show proof that you have completed the Florida Rider Program.
Motorcycle Only License
To get a Motorcycle Only license you must be at least 16 years old and have held a learners permit for at least a year with no traffic convictions. If you are over 18 you are not required to have held a learners permit. You must pass the standard class E operators license test that all drivers take to get a drivers license and complete the Basic Riders Course.
Three Wheel Motorcycles
To operate a three wheel motorcycle you must complete the S/TEP – Sidecar / Trike Evaluation Program. This course provides basic skills for those operating three wheel motorcycles and and side car rigs.
Those who pass the Motorycycle S/TEP course will have an "S" restriction on their license. The S Restriction indicates that the person only has permission to operate a three wheeled motorcycle.
Penalties
It is a second degree misdemeanor to drive a motorcycle without obtaining the motorcycle endorsement.  If you decide to risk it, you can be arrested and brought to jail to bond out.  You will be required to answer to a judge.  The maximum penalty is 60 days in jail and a $500 fine.  In lieu of jail, the judge could require that you go on probation for a period of up to 6 months.
Florida Helmet Laws
If you are 21 years old and covered by an insurance policy with at least $10,000 in medical benefits you can get a Helmet exemption. Note that law enforcement may stop you if you are not wearing a helmet and they believe you are under 21.
If you have been stopped for driving a motorcycle without an endorsement, Contact Us today, and put our experience to work for you!